Pond Skimmers

Standard Skimmerfilter
SS0000 Savio Skimmerfilter
Savio Skimmerfilters are suitable for ponds of all sizes and can be used as a skimming solution for ponds up to 10,000 gallons and the total filtration solution for ponds up to 1,500 gallons.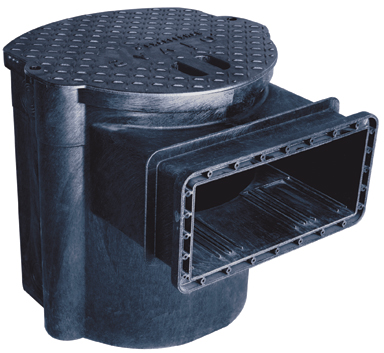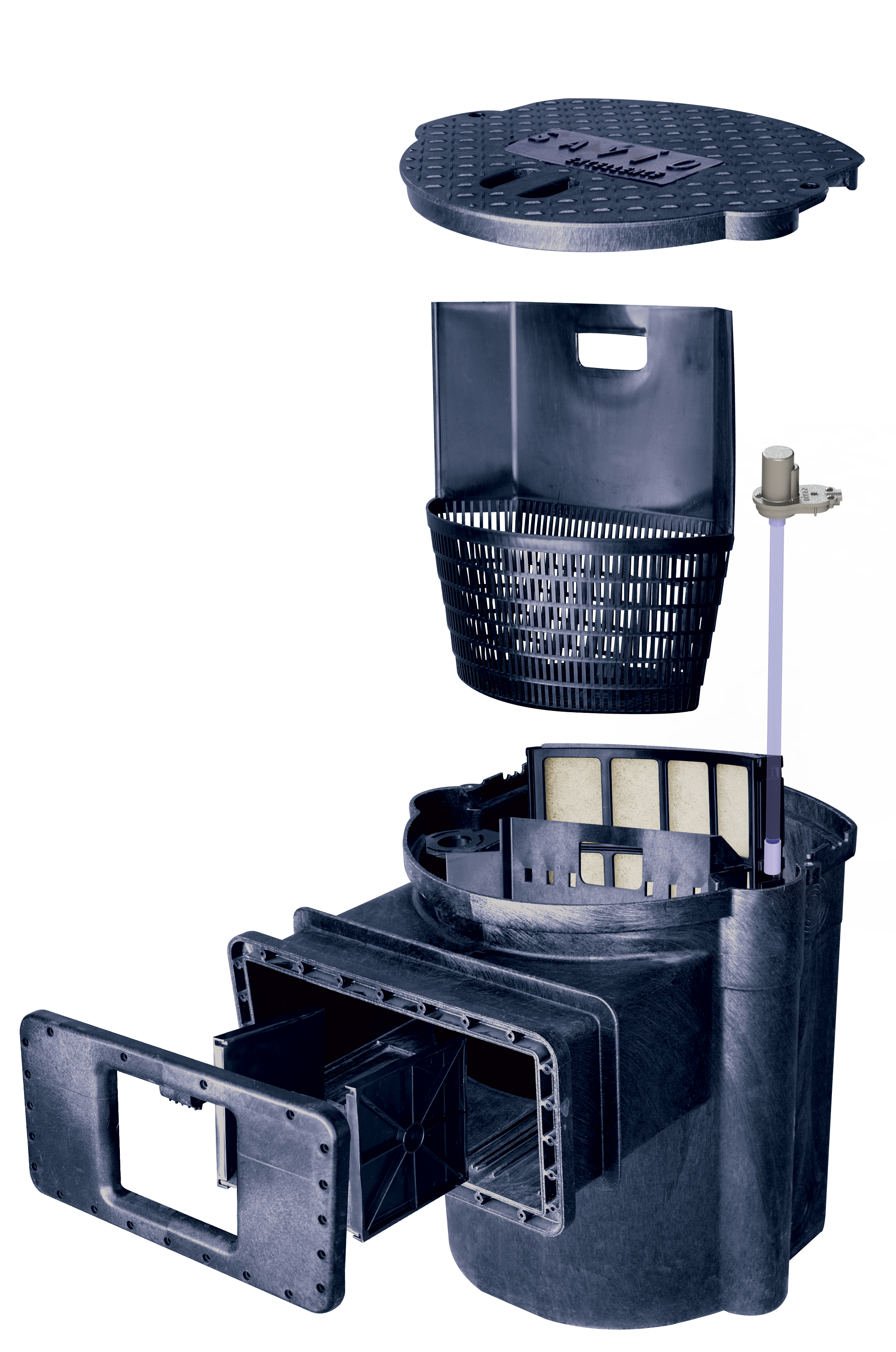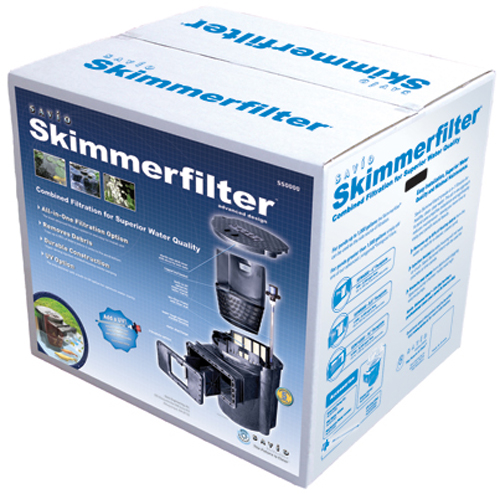 Skimmerfilter Combines 4 Types of Filtration
Undoubtedly the hardest working gardening product in your pond, the Savio Skimmerfilter™ dramatically reduces pond maintenance while blending seamlessly with the surrounding landscape. Combining four types of filtration for superior pond water clarity - its all-in-one approach reduces plumbing and eliminates the need for extra plumbing and equipment. All four systems work in harmony, in one easy-to-install unit that saves you time and money.
UV Filtration - Savio Skimmerfilters™ are the only skimmers on the market with a patented integrated UV system (sold separately) - a safe, chemical free way to eliminate green water.
Skimming Action - Pulls debris from the surface of the water, capturing in a rigid leaf basket with handle for clean, no mess disposal
Biological Filtration - Filter media provides a surface for beneficial bacteria to colonize the skimmerfilter, converting biological waste from fish, ammonia and other toxins to inert forms for healthier ponds.
Mechanical Filtration - The skimmerfilter protects and extends the life of your pump, providing a place to conceal ugly equipment and plumbing. When used with a biological filtration system, the skimmer prefilters debris allowing your filter to work more efficiently.
The skimmerfilter's super strong injection molded housing and cylindrical design resists warping and compaction in the ground, winning the approval of landscape and irrigation professionals everywhere. The SS0000 is large enough to accommodate a large submersible pump or two medium size pumps. The Savio Skimmerfilter™ works as a Complete Filtration Solution for ponds up to 1,000 gallons (or use with a Savio Livingponds Filter for larger water features and still enjoy the same clean, clear water).
Three faceplate assemblies (sold separately) are available to accommodate a variety of pump sizes. See accessories tab above.
Product Code (Base Unit) SS0000
FAQs
Can I retrofit your Skimmerfilter to an existing pond?
Absolutely. Savio Skimmerfilters are designed to be installed after the pond has been filled - whether it's a new install or an existing installation.The Skimmerfilter's long neck makes this possible. For more information on this, check your Skimmerfilter installation guide.
Water seems to be leaking around my Skimmerfilter's faceplate.
The skimmerfilter relies on compression to seal the faceplate to the liner, so - first thing - check the tightness of the screws. They should be quite snug - resist the urge to use a power driver however as this can strip out the threads in the skimmer. If the screws are tight and the faceplate is still not sealing properly - drain the pond 6 - 8 and remove the faceplate. Clean mud, gravel, and other debris from the mating surfaces - then smooth out any wrinkles and reinstall.
My Skimmerfilter's pump chamber runs dry during operation, what's causing this?
This could be caused by one of three things; 1) Low water level in the pond. Water level should be between 3/4 above or below optimum water mark on faceplate. 2) Weir door is closed/stuck/obstructed. 3) Weir is not large enough for pump flow. To solve this, reduce the pump flow, install a smaller pump, or install a larger faceplate faceplate assembly.
My Skimmerfilter's filter pad requires excessive cleaning - Is this normal?
This could indicate that the pump flow rate is too high or that the waste load in the pond is too heavy (due to fish waste or excessive plant debris). For ponds with flow rates greater than 5,000 gph, Savio recommends removal of the filter pad and the addition of a Savio Livingponds Filter to meet your bio-filtration needs.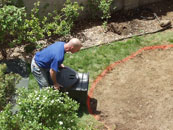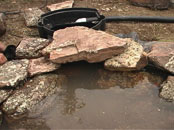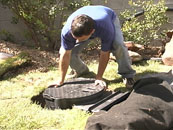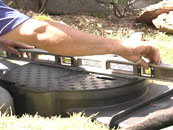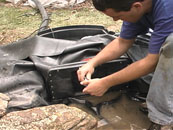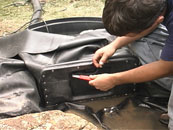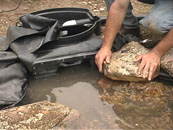 Savio Engineering, Inc. provides a manufacturer's limited warranty of 5 years from original purchase date. Warranty is non-transferable. Within the warranty period Savio will repair materials with manufacturing deficiencies at their discretion. This warranty does not cover any faults caused by improper use, installation and handling of the device or as a result of wear and tear. Warranty is void if the product is not used in accordance with instructions. For warranty claims, please see Click Here
6" Skimmer Faceplate Assy
Recommended Pump Flow 500-2,500 gph
SSW6000

8.5" Skimmer Faceplate Assy
Recommended Pump Flow 1,800-5,000 gph
SSW8500

16" Skimmer Faceplate Assy
Recommended Pump Flow 5000-8,500 gph
SSW16000




26 Watt UVinex
SUV026A

50 Watt UVinex
SUV050A

Large Stone Cover
K5001

Pump Kit for
Water Master Clear
K3011

Pump Kit for
Water Master Solids 1450-3600
K3013

Pump Kit for
Water Master Solids 5000-6500
K3016


Instruction manual for accessory
SkimmerFilter Specifications SS0000
PUMP CHAMBER Measurements
With filter frame installed- 7 1/4" X 13"
Without filter frame installed - 10 1/2 " X 13"

SSW16000
(side to side) 15 1/4"
(top to bottom) 6 1/2"
SSW8500
(side to side) 8"
(top to bottom) 6 1/2"
Measurements reflect faceplate opening.
Replacement Part list for the Standard Savio Skimmer SS0000
RS001 - Tank Only
RS002 - Cover / Lid
RS003 - Basket
RS004 - Center Baffle
RS016 - Rear Frame
RS017 - Front Frame
RS018 - Divider Doors
RS019 - UV Baffle Block
RS020 - Filter Media Pad
RS023 - Screw Packet
RS024 - Filter Frame (Front and Rear)
RS100 - Bagged Components
RS105 - Baffle Shield (Left)
RS106 - Baffle Shield (Right)