Livingponds 070 Filter
F070 Livingponds 70 Filter
Savio Livingponds® Filters harness the natural dynamics of moving water. Their carefully engineered cylindrical design puts pond water into a self-cleaning, highly dynamic ®spin cycle®. This process removes the heaviest debris before it gets to the filter media and ensures that the water is evenly distributed throughout the entire filter chamber. The net result is a filter that operates nearly 3x more effectively than those inefficient square filters!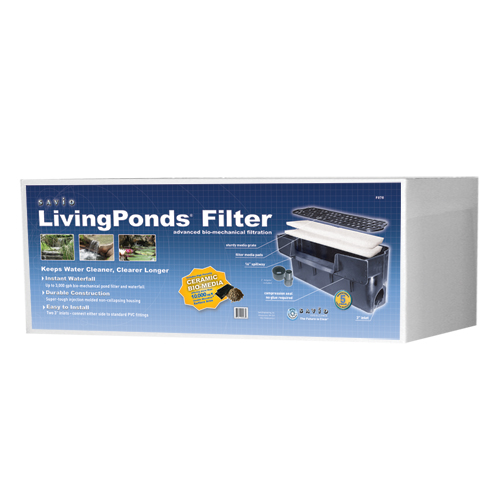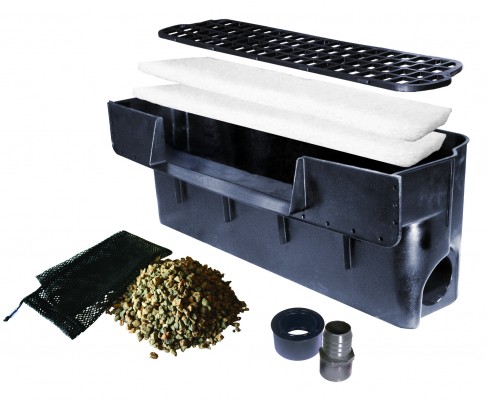 Meet the smallest member of the Livingponds® lineup - the Savio Livingponds® Filter 070.
A small filter with big backyard appeal, the '070' is a filter for a pond up to 700 gallons or the perfect intermediate-size filter to complement a Savio Skimmerfilter® for ponds up to 2,200 gallons. Ready to keep your water clear, while creating a beautiful waterfall, this Livingponds® filter comes equipped with two medium density filter pads and ceramic media. Finished with a 16" spillway, heavy duty media grate and 3" Inlets on either side.
Livingponds 070 Filter Warranty
Savio Engineering, Inc. provides a manufacturer®s limited warranty of 5 years from original purchase date. Warranty is non-transferable. Within the warranty period Savio will repair materials with manufacturing deficiencies at their discretion. This warranty does not cover any faults caused by improper use, installation and handling of the device or as a result of wear and tear. Warranty is void if the product is not used in accordance with instructions. For warranty claims, please click here
F070 Filter Accessories
BX21 - Replacement Box
RF023 - Media Grate
RF024 - 3" Plug
RF025 - Replacement Filter Media
RF026 - Faceplate Screws
RF027 - 16" Spillway
RF032 - Replacement Ceramic Media
RF033 - Media Bag
APLSS40 - Hose Clamps 3 to 2 1/16
ADP1436020 - 2" Male Adapter
ADP438338 - 3" x 2" Reducer Bushing
ADP1436251 - 2" X 1 1/2" Male Adapter
Replacement Filter Pad for F070